This EdTech syllabus uses a rhetorical strategy we're all familiar with – the syllabus, or course outline – as a metaphor for thinking about how we structure our learning about educational technologies and tech-related professional development. Just as the syllabus structures the experience of classroom learning, my syllabus structures my approach to teaching with and about educational technology. In this syllabus, you'll find about the practices that shape my work, and resources you can use for your own projects.
My purpose for creating this ePortfolio is that it will reside on the root of TRU's WordPress domain and it will raise the profile of edtech within the teaching and learning community at TRU and beyond. My aim is to develop a persistent resource that enables faculty to implement educational technologies in their practice. This resource will not only present various educational technology tools it will describe when and how to use them. I aim to create an open access toolkit that explains the pedagogical underpinnings of educational technology platforms and conceptualizes the artifacts I have built during my MET journey. My intended audience is Faculty at TRU and the broader EdTech community. This resource is something I would like to build iteratively with the goal of presenting it to BC Campus so it can be included as an open resource. The goals of this product are:
To connect pedagogy to technology in a way that is accessible for TRU's community and the broader EdTech community.
To build a persistent resource that empowers educators to create purposeful and engaging online learning experiences for their learners.
To provide practical demonstrations of important EdTech concepts that faculty can easily implement.
To highlight aspects of my learning during my MET journey that has enabled me to link pedagogy with technology.
My goals center around the needs of TRU faculty and the broader EdTech community, supporting instructional faculty is why I decided to do this program. In terms of my skill set it will demonstrate my proficiency with various educational technologies which will enable me to grow within the educational technology field. My goals are about knitting together and displaying the theoretical knowledge and practical skills I gained while in the MET program. This will be a completely open resource which aligns with my values as an educational technologist and TRU.
About the Masters of Educational Technology (MET) Program
Going into MET I had some pretty clear goals and I believed that upon completion of the MET program at UBC, I would have a blend of technical and educational skills and knowledge that would increase my ability to meet my academic and professional goals. I believed I would greatly benefit by understanding the learning theories that apply to the technologies I work with every day. My professional goals included gaining the skills and confidence necessary to become a leader in my workplace. My academic goals included researching and analyzing the effectiveness of current learning technologies and assessing the challenges in adapting new technologies to supplement them.
MET has helped me develop my pedagogy behind learning technologies, now I can make a positive change in students' learning experience by influencing faculty and staff to better equip students with the technological skills they need to succeed in their field of study. The knowledge I gained from the MET program at UBC is enabling me to better address interaction and assessment issues along with integrating technology with classroom pedagogy. Listen to my philosophy regarding teaching and learning.
MET has taught me how to research and analyze the effectiveness of current learning technologies and to assess the challenges in adapting new technologies. The MET program provided me with a winning combination of academic content and a context where I could get practical and apply what I learned. The EdTech Syllabus is a space where I can showcase the knowledge I have gained from MET and how I have applied it.
About me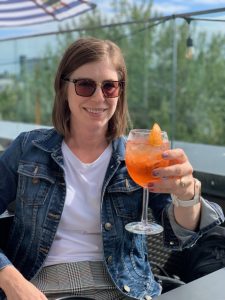 I work as a learning technologist in the Learning Technology & Innovations (LTI) department at Thompson Rivers University (TRU). Most recently, I am helping faculty pivot their face-2-face classes to digital and I am grateful for the MET community and all the support and knowledge that I am receiving.